Steady yourself. An all-new feature from the Collaboratory is about to rock your world: managing your notifications and subscriptions! Starting today, all Collaboratory Members will begin receiving a daily digest of Collaboratory activity. The magic will happen each day at about 2 p.m. ET.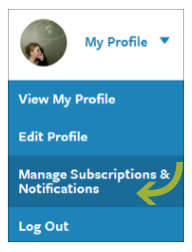 Your pal webmaster@teachingquality.org will deliver a feast of fascinating debate, commentary, and opportunities straight to your inbox.
Hm. Think daily sounds like too much? Or too little—cause you're kinda obsessed with transforming teaching? Starting today (as in right now!), you will be able to adjust the options. Just log in at www.teachingquality.org and navigate to "Manage Notifications & Subscriptions" which is in your "My Profile" drop-down menu. See this nice image to the left?
Thanks for all you do!
~ The CTQ Web Team
P.S. Our CTQ web gnomes have been FAQ-obsessed lately. They've answered questions from "What if I forget my password?" to "Who can join a Lab, and how?" and (most) everything in between.